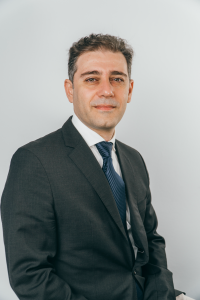 My name is Oussama Jarrousse. I have a Ph.D. in Biomedical Engineering from the Karlsruhe Institute of Technology (2011) where I worked on 4D personalised computational modelling of human heart elasto-mechanics, breast deformation modelling, and non-linear anisotropic elastic image registration. I also hold a M.Sc. degree in Telecommunication Engineering from the University of Damascus (2003).
During my post-doc at the NarvisLab of the Ludwig-Maximilians University (LMU) hospital in Munich, I was investigating the use of vibroarthrography in non-invasive early diagnosis of knee osteoarthritis as part of the lab research team.
Currently, I am the head of software development and a research engineer at Munich-Innovation Labs. I manage the development team where we are tackling several medical engineering research questions, with focus on medical image processing and AI applications in medicine and biology in collaboration with university hospitals and clinicians. Recently we have been looking at AI application in the security sector in collaboration with law enforcement agencies. Our work has attracted a lot of attention from both the business and the scientific communities.
Since 2014, I have been providing consultancy, training and support in the field of cyber-security, and information assurance (IA), mainly to NGOs working to protect journalists and human rights defenders working in high-risk environments around the world.
In 2021, together with two other colleagues, I co-founded Simula, an information technology services and consultancy company with focus on data security and management, website care, business processes simulations, and digital communications. Simula is a social enterprise that puts social good before profit.
I care deeply about human rights, democracy and the rule of law. Since 2011, I have been actively engaging in campaigning and working with political actors, to progress the cause of democracy and human rights in Syria, and with activists, and humanitarian organisations, to mitigate the effects of the civil war on the affected population. In 2021 I joined the Syrian Liberal Party, a platform that promote liberal values, freedom of speech, women rights, secularism and diversity and aspires for a pluralistic participatory modern democracy in Syria.
Media Mentions
Middle East Eye, "REVEALED: The UK media company silencing Syrian activists on Facebook", Kareem Chehayeb and Rohan Advani, 21 July, 2020
Arab Times Online, "Russia says embassy in Syria hit in mortar attack, no casualties – IS attacks Syrian army east of Homs – monitors", August 02, 2017
Fox Business, "Widow confirms open software pioneer was executed in Syria", Philip Issa, August 02, 2017
The Guardian, "EU at odds with Trump administration over Assad's role in Syria", Jennifer Rankin, April 03, 2017
Vice, "Help Fight ISIS by Rebuilding Palmyra in 3D", Benoit Palop, November 10, 2015
Le Monde, "Comment s'organise l'opposition intérieure en Syrie ?", Nora Benkorich, 08 August, 2012
Publications
"Automatic Weapon Detection in Social Media Image Data using a Two-Pass Convolutional Neural Network", European Law Enforcement Research Bulletin, Oct 26, 2018
"Detection and Grading of Knee Joint Cartilage Defect using Multi-Class Classification in Vibroarthrography", CAOS 2018, EPiC Series in Health Sciences, Jul 12, 2018
"Vibroarthrography for early detection of knee osteoarthritis using normalized frequency features", Medical & Biological Engineering & Computing, Feb 1, 2018
"Früharthrose-Diagnostik durch Vibroarthrographie: eine MRT-Vergleichsstudie", Sports Orthopaedics and Traumatology Sport-Orthopädie – Sport-Traumatologie, Jun 01, 2015
"Vibroarthrography of human knee: Measurements and feature extraction", Biomedical Engineering / Biomedizinische Technik (BMT), Jan 01, 2014
"Impact of physiological ventricular deformation on the morphology of the T-wave: a hybrid, static-dynamic approach", IEEE Trans Biomed Eng., Apr 29, 2011
"In silico analysis of the impact of transmural myocardial infraction on cardiac mechanical dynamics fort he 17AHA segments", LNCS 2011, Jan 01, 2011
"Analyzing the transmural electromechanical heterogeneity of the left ventricle in a computer model", BMT2010 Proceedings Biomedizinische Technik, Jan 01, 2010
"Modeling breast tissue mechanics from prone to supine positions with a modified mass-spring system", BMT2010 Proceedings Biomedizinische Technik , Jan 1, 2010
"Anatomical, electrophysiological and mechanical modeling of the heart.", Chaste: Users & Developers Workshop, Jan 1, 2009
"Implicit time integration in a volumetric mass-spring system for modeling myocardial elastomechanics", FMBE Proceedings World Congress on Medical Physics and Biomedical Engineering, Jan 1, 2009
"A modifed mass-spring system for myocardial mechanics modeling", Proceedings of the 4th European Congress for Medical and Biomedical Engineering 2008, Jan 1, 2009
"Adapting a mass-spring system to energy density function describing myocardial mechanics", Proceedings of the 4th European Congress for Medical and Biomedical Engineering 2009, Jan 1, 2009
Books
"Modified mass-spring system for physically based deformation modeling", KIT Scientific Publishing, Mar 9, 2012